---
Challenge yourself to write every day.
---
My daily writing challenges help writers develop a daily writing habit.
---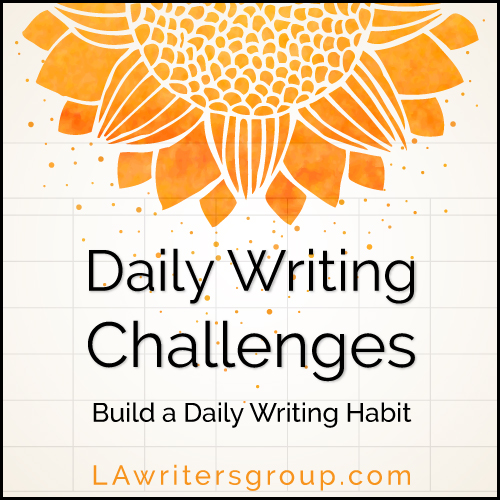 How often do you hear people tell you that if you want to be a writer, you have to write every day? A lot, I'll bet. There are a couple of reasons behind this advice:
Aspiring writers often relegate writing to the luxury category in their lives, rather than the essential category.
A daily writing habit helps us overcome that waiting-for-inspiration fallacy.
The more you do something, the better you get at it.
Writing encourages self-examination and can help people heal.
Daily writing generates new story ideas.
Gifting yourself 15 minutes a day with a daily writing challenge can work wonders for your writing practice and productivity.
I'm a writing coach who specializes in keeping writers on track to finish their first draft of a writing project. I've been running writers groups and creative writing workshops for the better part of 15 years. I've seen the amazing results that can happen when a writer commits to a writing schedule.
In my workshops, we often do writing exercises where we write for 15 minutes. I'm always surprised by how much writers generate in such a short time.
This is why I've created daily writing challenges that send you a writing prompt every day by email. Your mission: Write every day for 15 minutes. That's it. And you love writing, remember?
---
Both my Get Writing Again in 15 Days and my 100 Days of Writing daily writing challenges have helped many get back to a daily writing habit.
---
Workshop
Location
Type
Instructor
Date
Length
Cost
Register Here
Get Writing Again in 15 Days
Email Course
Email Course
Nicole Criona
Start any time
15 Days
$24.99 to $57
Register Here
100 Days of Writing
Email Course
100 Day Writing Challenge
Nicole Criona
Start any time
100 Days
Due to how the coronavirus is affecting us all, I've changed this program to a donation model. Choose how much you'd like to pay, and you're in!
EXTENDED THROUGH THE END OF STAY-AT-HOME ORDERS!
Program Value: $75
Register Here
If you are interested in receiving critique or guidance on your book project, please check out our Private Coaching options or schedule a free coaching/editing consultation. View all creative writing workshops here.