Can you write 200 words a day for 100 days?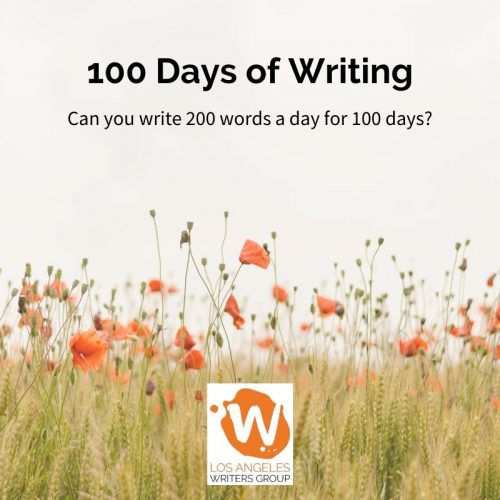 Your mission: Write 200 words a day for 100 days
An email course (and soon-to-come online community) for those who want to challenge themselves to establish a consistent daily writing practice.
---
Are you ready to get writing? Start today!
During this writing challenge, you will receive a writing prompt by email every single day for 100 days. Sometimes you will get bonus prompts or challenges. Some prompts will focus on writing better scenes for fiction or memoir, some prompts will be geared toward journaling or personal development, and some prompts are designed for sheer creativity. Use the prompts to journal, or to write poetry, short stories, essays, or to write scenes for your fiction or nonfiction book.
You don't have to write one story per day, just 200 words per day. Maybe you use the prompt, maybe you veer from the prompt. All that matters is that you write 200 words a day.
---
Why take a Writing Challenge?
Why challenge yourself to write every day for 100 days? And why is it so important to develop a consistent writing practice?
A good question. After working with plenty of private coaching clients, I know there are as many answers to this question as there are writers, but here's my take on the most important reasons:
If you want to eventually publish something, you need to develop the habit of acting like a professional writer. And professional writers treat their writing like a career rather than a hobby.
You need to amass as much material as possible. You need to catalog ideas, vignettes, storylines, scenes, poetry – whatever you like to write.
Writing heals and helps you grow. I've dug myself out of several major depressive episodes through writing, and I've known writers who have written their way through trauma and physical illnesses.
---
The Reward Option
If you choose the reward option, and you do write every single day of this 100-day writing challenge, I will reward you with either:
One FREE 60-minute coaching session which includes reading and editing up to 15 pages ($150 value).
OR
A FREE seat in an all-day group writing retreat at my new Carlsbad, CA (North County San Diego) location, which is five minutes from the beach. You can come for the day or stay in one of a myriad of nearby hotels. I'll give you a choice of dates. Carlsbad is only about 1.5 hours south of Los Angeles.
Because of this, space is obviously very limited in the reward option group.
Are you ready to generate 20,000 words in 100 days?
To sign up for the 100-Day Writing Challenge:
Pay via Paypal
You will receive a confirmation from PayPal, but you will not receive a confirmation from us.
After you pay, you will be automatically redirected to a page with a fill-in form.
Fill in the form, but please note: The time you fill out the form is the time you will receive the daily prompts. This is irreversible, so be sure to fill out the form at the time of day you want to receive the prompts.
Enjoy the writing challenge and commit to writing at least 200 words a day!
If you have a question, email us at lawritersgroup@gmail.com.
100 Days of Writing with Reward option: $175
100 Days of Writing without reward option: $75
Check out our Book Coaching Packages and our creative writing workshops.