Hello, San Diego!
---
Add some creativity to your week.
---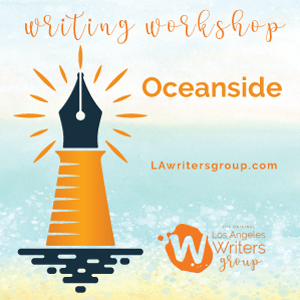 This long-standing in-person generative, creative writing workshop that originally started in Los Angeles, now also takes place in Carlsbad, right near Oceanside (see nearest cross streets here).
Tap into your creative side, generate prose that will surprise you, and learn a few things along the way.
Generate new writings from original prompts each session
Get writing tips and learn what's working in your writing and why
Reignite your passion for writing
Write for two hours and come away with new material
Try your hand at different kinds of writing
Learn tips and tricks for writing better scenes and narratives.
Held in a private residence near Oceanside, CA (South Carlsbad)
This creative writing workshop near Oceanside (in Carlsbad) is not lecture-based; we get right down to writing. We choose writing prompts based on either a theme of the week, education, craft, or creative value. While we do not offer critique in this workshop — as each piece you write is so new — but we do offer much-needed and undervalued positive reinforcement around the potential of each piece you write. Through original and surprising prompts and craft discussions, you'll write pages you never would have otherwise and you will learn creative writing tools along the way.
Come any Sunday you'd like, the prompts are different every week.
---
Details:
Skill Level:
Anyone over the age of 18
Class Size:
Limited to 8 participants
Requirements:
None
Location:
In person in Carlsbad, CA. This workshop is held in a private residence. Once you register, please see your confirmation email for address
Important Terms & Conditions:
This workshop qualifies you for the 15% off Returning Member Discount, which you will receive when you attend your first workshop.
Read our full refund policy here.
---
Workshops:
---
Online Workshops:
---
Daily Writing Challenges:
Workshop
Location
Type
Instructor
Date
Length
Cost
Register Here
Get Writing Again in 15 Days
Email Course
Email Course
Nicole Criona
Start any time
15 Days
$24.99 to $57
Register Here
100 Days of Writing
Email Course
100 Day Writing Challenge
Nicole Criona
Start any time
100 Days
Due to how the coronavirus is affecting us all, I've changed this program to a donation model. Choose how much you'd like to pay, and you're in!
EXTENDED THROUGH THE END OF STAY-AT-HOME ORDERS!
Program Value: $75
Register Here
---
If you are interested in receiving critique or guidance on your book project, please check out our Private Coaching options or schedule a free coaching/editing consultation. View all creative writing workshops here.