---
The 15-Day Writing Challenge has been rebranded as Get Writing Again in 15 Days. All the information below remains current. Also, check out the 100-Day Writing Challenge (see the table, below).
---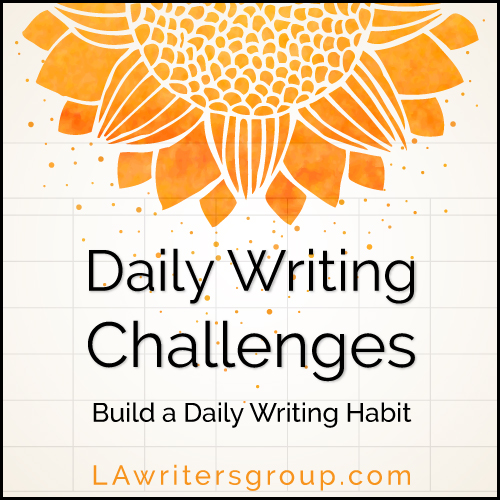 Writing challenges are a good way to start writing again.
But a writing challenge that helps you explore why you haven't been writing can help you establish a sustainable writing habit.
I designed this 15-Day Writing Challenge email course with self-examination and sustainability in mind, topped off with some fun creative writing. As a Coach for Writers who's helped many writers complete their first drafts, I've come up with methods and prompts that help writers discover why they haven't been writing so they can look at themselves honestly and thereby unblock the path to moving toward a daily writing habit.
Through carefully chosen daily writing prompts and daily coaching steps, you will begin to challenge the story you've been telling yourself about your relationship to writing and explore what's been holding you back from maintaining a daily writing practice.
Via your daily emails, you will:
Examine your relationship to writing.
Unpack and reframe the story you've been telling yourself.
Reevaluate where and when you write.
Make changes to your writing space.
Learn new ways to be creative on the page.
Become more aware of where you can find inspiration and source material.
Learn how to support and pick yourself back up during those times when you stop writing.
End up with fifteen days worth of new material to pull from and use to create stories, essays, scenes, or poetry.
Learn how to set reasonable goals and coach yourself through your goals.
---
30-Minute Coaching Session Option
Everyone who signs up for the writing challenge has the option to get a 30-minute coaching session via phone or online video conference.
---
15-Day Writing Challenge Testimonials
I'm loving the daily exercises. My writing MOJO is definitely flowing now! Thanks Nicole for your comforting support.

– Frankie F. 6/6/16
"If you are a writer who feels discouraged, uninspired, unproductive, and unmotivated, I cannot recommend this challenge enough. Before I took the 15-day challenge I felt crippled by writer's block and disappointed in myself for my lack of productivity. But through a series of relaxing and explorative prompts, the 15-day challenge allowed me to gradually untangle my writer's block, clear my mind, and remember why I love writing. Since I finished it, I now complete a writing prompt almost every day on my own. And instead of looking at that first blank page with dread and doubt, I now see it as an adventure. This challenge will change your attitude about writing for the better and rekindle your passion for the craft. It's more than worth the money. Don't hesitate!"

– Kaitlyn M. 5/26/16
"You know, I've had numerous teachers throughout my creative life, at schools and academies, and I have been scarred for life by most of them. I truly have felt like a creative cripple for many years. However, I have never felt more nurtured and accepted than under your guidance during the 15 day writing course. That decision to complete the course has been the best decision in a long time. So, thank you."

– Katherine M. 3/10/16
"It was a great experience and one that I needed. I haven't picked up a 'pen' in a creative writing journey in many months. The 15 days motivated me to write and I'm glad to report that it's only whet my appetite. I fell in love with the creative process again. Nicole, you're awesome. I liked all of the prompts. Thank you, thank you."

– Jacqueline K. – 1/20/16
"I began this workshop with lots of apprehension which was similar to how I tackled my writing, unfortunately. But, with your energy and tenacious daily prompts… I was able to defeat the writers block that I often found myself in! I've been writing everyday since your workshop and I'm happy to say that I have actually completed two articles that I am preparing to submit for publication! I am incredibly grateful to have had this opportunity. Thank you so much for your enthusiasm, professionalism, and mindful energy that you brought to this 15-Day challenge! I'm actually considering doing it a second time!"

– Deb G. – 9/20/15
---
Your Daily Writing Challenge Email Contains

:
Daily Writing Prompts:

Some writing prompts are focused on self-discovery while others are about sheer creativity and craft. These exercises will encourage you to get words on the page and provide you with tools to approach your daily writing practice.

Daily Coaching Steps:

Coaching steps are designed to help you find new ways to support yourself while maintaining a daily writing practice well after the challenge concludes.

Instructions on how to set up your free 30-minute coaching session.
Instructions on how to access the live weekly online office hours.
---
What Will You Write About?
This challenge is not focused on any one genre. Instead, it is about creativity and self-discovery. No matter what you like to write, you can join this challenge. Topics covered during the fifteen days:
Why You Write
Your Sacred Space
Thinking Outside The Paragraph
Source Material
Compassionate Goal Setting
---
Who Can Join?
Anyone who wants to establish or re-establish a daily writing practice. Or anyone who wants to make more room for creativity.
---
Time Commitment
Participating requires only 1/2 hour per day for 15 days.

---
Sign-Up Now for the 15-Day Writing Challenge
Now called Get Writing Again. See the table below to sign up.
Get Writing Again in 15 Days

A daily email course with easy, enjoyable daily writing prompts and coaching steps to help you get back into a daily writing habit.
Instructor: Nicole Criona
15 daily emails with optional coaching session option
$24.99 – $57
More Info / Register Here

100 Days of Writing

Your goal: Write 200 words a day for 100 Days. Get daily email prompts designed to both inspire and educate you. Can you write 20k words in 100 days?
Instructor: Nicole Criona
100 Daily emails with an optional coaching session option
$125 – $225
More Info / Register Here
---
If you are interested in receiving critique or guidance on your book project, please check out our Private Coaching options or schedule a free coaching/editing consultation. View all creative writing workshops here.