Can you write 200 words a day for 100 days?
Your mission: Write 200 words a day for 100 days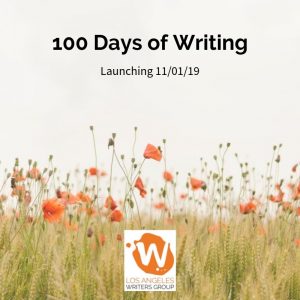 I don't believe in New Year's resolutions. I think it's ridiculous to think that on a specific day of the year, we can magically make major life changes.
I do, however, believe that small changes over time can lead to significant changes. That's why I'm launching the 100 Days of Writing program now instead of January 1st.
For those of you who want to write more consistently, let's get into the habit now so that by the time New Year's Eve rolls around, we can celebrate the fact that we're already on our way to accomplishing one of our resolutions; to write more consistently.
---
Are you ready to get writing?
I've created a private network on Facebook (if you don't have or want to use Facebook, I'll email you the daily prompts) where I will post a writing prompt every single day, and the occasional interesting articles on writing or inspiration. Use the prompts to journal, or to write poetry, short stories, essays, or to write scenes for your fiction or nonfiction book. You don't have to write one story per day, just 200 words per day. Maybe you use the prompt, maybe you veer from the prompt.
All that matters is that you write 200 words a day.
---
Your mission: Write at least 200 words every day.
Why is it so important to develop a consistent writing practice anyway?
A good question. After working with plenty of clients, I know there are as many answers to this question as there are writers, but here's my take on the most important reasons:
If you want to eventually publish something, you need to develop the habit of acting like a professional writer. And professional writers treat their writing like a career rather than a hobby.
You need to amass as much material as possible. You need to catalog ideas, vignettes, storylines, scenes, poetry – whatever you like to write.
Writing heals and helps you grow. I've dug myself out of several major depressive episodes through writing, and I've known writers who have written their way through trauma and physical illnesses.
---
The Reward Option
If you choose the reward option, and you do write every single day for 100 days, I will reward you with either:
One FREE 60-minute coaching session which includes reading and editing up to 15 pages ($150 value).
OR
A FREE seat in an all-day group writing retreat at my new Carlsbad, CA (North County San Diego) location, which is five minutes from the beach. You can come for the day or stay in one of a myriad of nearby hotels. I'll give you a choice of dates.
Because of this, space is obviously very limited in the reward option group.
I'll also throw in a couple of online Zoom meetings so those who aren't camera shy can all meet each other.
Are you ready to generate 20,000 words in 100 days?
Starts 11/1/19
After you pay, you will be taken to a page with instructions on what to do next. We won't email you a confirmation, but you will get a confirmation from PayPal. If you do have a question, email us at lawritersgroup@gmail.com.
Register by 10/15/19 and get the early bird price:
100 Days of Writing with Reward option: $175 $150
100 Days of Writing without reward option: $75 $55