---
Add some creativity to your week.
---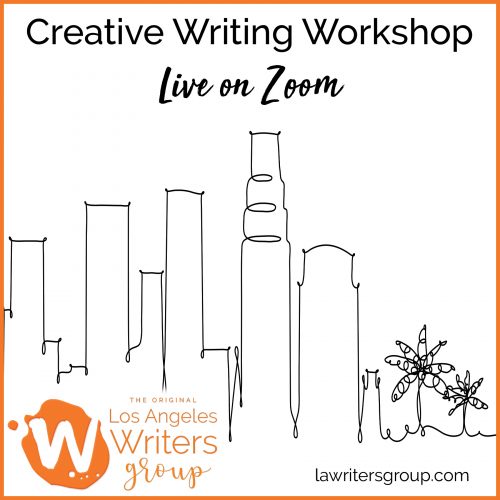 Tap into your creative side, write work that will surprise you, and learn a few things along the way.
These long-standing in-person generative, Creative Writing Workshops in Los Angeles, which took place in West Hollywood, CA, for 15 years, has switched to an online format due to the Coronavirus Pandemic so you can now join us from anywhere. 
– Generate new writings from original prompts every meeting
– Get writing tips and learn what's working in your writing and why
– Meet fellow writers
– Participate from anywhere
– Get excited again about writing
– Create new material
– Try your hand at different kinds of writing
– Learn to write better scenes
– No long-term commitments – come to any session you'd like
These weekly creative writing workshops in Los Angeles (now online) are not lecture-based. We get right down to writing. We write from writing prompts based on either a theme of the week, education, craft, or creative value. There is no critique (as each piece you write is so new)–only much-needed positive reinforcement around the potential of each piece you write. You will also receive tips and tricks for writing better narratives and scenes.  Through original and surprising prompts and craft discussions, you'll write pages you never would have otherwise.
---
Details:
Skill Level:
Anyone over the age of 18
Class Size:
Limited to 8 participants
Requirements:
None
Location:
Online on Zoom
Important Terms & Conditions:
This workshop qualifies you for the returning member discount.
Read our full refund policy here.
---
Workshops:
Workshop
Description
Details
Cost
Saturday Creative Writing Workshop
A weekly generative creative writing workshop. Writers of all genres and skill levels are welcome to attend.
Live on Zoom
Every Saturday
10:00 am.
2.5 hrs
$37 per workshop
Register Here
Meditation and Writing
This meditation and writing workshop combines a variety of meditation practices and writing to find a path to creative inspiration and spiritual insight.
Live on Zoom
Select Tuesdays
5:00pm PST
2.0 hrs
$54 per workshop
Register or See Dates Here
Lazybones Writing Magic Six-Week Audio Course
Lazybones Writing Magic helps you get motivated to write by teaching mind-body techniques to remove blocks that hinder creativity.
Six Week Audio Course
$99 On Sale
(reg. $225)
Register Here
---
If you are interested in receiving critique or guidance on your book project, please check out our Private Coaching options or schedule a free coaching/editing consultation. View all creative writing workshops here.