Your Daily Writing Prompt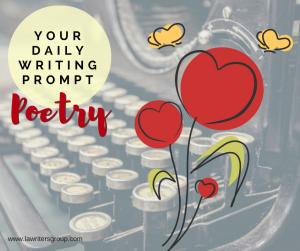 This week's prompts focus on expanding your poetry repertoire. Experimenting with different forms of poetry can be fun and a great way to express yourself. For this week, I recommend writing by hand only.
Every Sunday we kick off a new theme for our daily writing prompts. You can read Sunday's post here: https://www.lawritersgroup.com/writing-prompt-112716/
Today's Writing Prompt
Today we waltz into the fixed boudoir of the villanelle. Sounds so very Victorian, doesn't it? According to Google, a villanelle is:
A nineteen-line poem with two rhymes throughout, consisting of five tercets and a quatrain, with the first and third lines of the opening tercet recurring alternately at the end of the other tercets and with both repeated at the close of the concluding quatrain.
That description sounds Victorian as well. Did you get it? Yeah, neither did I. Let's make it easier.
A few famous examples of Villanelle are Dylan Thomas', Do Not Go Gentle Into That Good Night, and Sylvia Plath's Mad Girl's Love Song (are you sensing a theme here from yesterday?).
Here is a link where that above bit of that gobbledegook is decoded for us, complete with a breakdown of Sylvia's poem: 
http://literarydevices.net/villanelle/
Write a villanelle today.
I'd love to read your poems!
You can post your daily writing exercises in the comments section of the blog post if you'd like or you can post on our Facebook group. Or you can keep them to yourself. It's all fine with me.
Go forth and write,
Nicole
Remember:
You can write about yourself or apply these prompts to your character.
It's okay to change personal pronouns (he to she or she to I, etc.)
You don't have to follow the prompt exactly; it's more important that you get words on the page today.
You can get these daily writing prompts a couple of different ways:
First Draft Incubator: Ongoing Support for Serious Writers