Learn how to start an art journaling practice. No art experience necessary!
---
This Art Journaling Workshop has ended. Please check out our writing workshops schedule page for currently scheduled workshops or join our mailing list. 
---
Learn to start your own art journal
Crafting a story is an intensely intellectual and heady process. Writers benefit from tools that help get them into the creative headspace and sidestep their inner critic. Art Journaling is an easy, creative, and fun way to let your linguistic mind relax into a judgment-free visual space filled with colors, textures, and shapes. I've been practicing art journaling for years and am excited to share some of the things I've learned along the way. It's so easy that anyone can do it, especially people who think they aren't visually artistic.
If I can do it, you can do it, and I'm going to show you how to create your own art journal pages.
By starting an art journal practice, you will learn to embrace experimentation and mistakes, which can ultimately serve your generative writing practice by reducing perfectionism and increasing enjoyment. Mixed media art journaling is also an excellent way for writers to "commute" to and from their story world. Finding another creative outlet can also miraculously open new doors to the creative storytelling process.
You don't need a drop of art experience to take this workshop. I didn't have any when I started art journaling. If you do have art journaling experience, join us to create a few pages in your art journal and see how we incorporate writing prompts into the art journaling process.
---
In this Art Journaling Workshop, you will:
Learn to embrace imperfection.
Learn how to create an art journal page.
Create a new page in each workshop.
Learn techniques to help you create your own mixed-media art journal pages.
Incorporate written words on your journal pages.
Learn this fun, affordable method for reducing stress and self-criticism
Experiment with basic mixed-media techniques for texture, color, and design
Create deeply personal visual images from your heart in a supportive, compassionate community.
---
Who can take this workshop
Anyone interested in making a mess and exploring the connection between words, colors, textures, and shapes.
No art experience necessary!
---
Supplies
---
You will need to purchase an art journal. I recommend either the Strathmore Visual Journal Notebook or the Moleskine Watercolor Art Journal (any size). All other supplies will be provided with no extra materials fee. Feel free to bring any media (paper, magazine cutouts, personal photos, etc.) you wish to class, but it's not necessary. We will have plenty of choices!
---
Art Journaling Workshops Returning Soon!
---
Some sample art journal pages: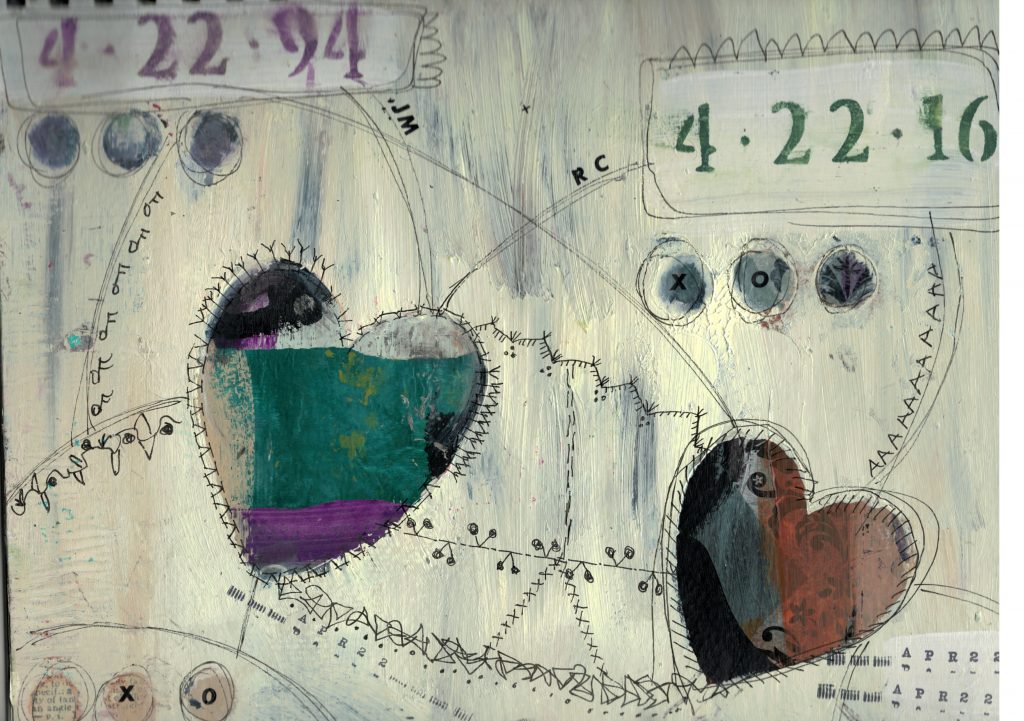 ---
If you are interested in receiving critique or guidance on your book project, please check out our Private Coaching options or schedule a free coaching/editing consultation. View all creative writing workshops here.