This workshop has ended. Please check out our writing workshops schedule page for currently scheduled workshops.
Finding Form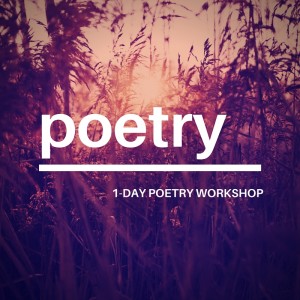 Form is what gives a poem a body, what shapes the intangible ingredients of sound, silence and feeling into material artifact. Form is essential to all writing, but in poetry it takes center stage. Poetry is both highly "formal" and boundless.
There are no, or few, givens when it comes to what form a poem should or could take.  When you set out to write a poem, you might have some material that seems to want to be a poem–but how do you know if it should have long, stately lines, or short, brisk ones? If it should be written in rhymed couplets or one long run-on sentence spilling across enjambed lines? Or does the poem want to be a "fixed" form, a sestina or a sonnet or a ghazal?
No two poems or poets will ever use form in precisely the same way. So how does one learn to "master" form? Partly by accepting that form cannot be mastered. But also by playing, imitating, inventing, reinventing. The right form for a poem must be found in the process of experimentation.
So this workshop will be ruled by the spirit of experimentation and play. We will be looking at poems ancient to contemporary, using these as springboards to new material. We will try out some forms in a variety of writing prompts, and we will also play around with inventing whole new forms we can name after ourselves! By the end of this workshop, you will have a better  sense of the possibilities (endless!) of form, and a well-stocked toolbox for giving your words a living shape in your future poems.
Details:
Skill Level:  All writers or enthusiasts over the age of 18.  No prior experience necessary.
Location: Los Angeles, CA: A private residence in West Hollywood, 90046 near Hollywood Blvd., and Laurel Canyon Blvd. 
Workshop Dates:  Saturday, January 23
Cost:  New Members $120      Returning Members $102
Important Terms & Conditions

:  

This workshop is not confirmed until at least 4 people register

, so do not wait to sign up.  If the workshop doesn't go, you will be refunded in full. Keep an eye on this site for number of registrations and share with your friends! Once 4 people register, the cost is non-refundable. If you cannot attend the workshop and you speak to us 7 calendar days prior to the workshop date, we will transfer your registration to another workshop. After the 7-day mark, the workshop is non-refundable and non-transferable. Attendance at this workshop qualifies you for the

returning member discount on future workshops. Read our full refund policy here.