Workshop Leader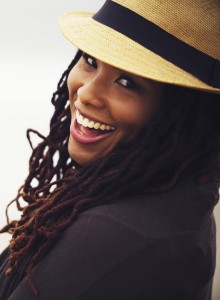 LaCoya Katoe Gessesse changed her undergraduate major after a single question from a favorite college professor—"Why aren't you majoring in something you love?" LaCoya wasn't quite sure why she'd chosen a business degree over her love of English and literature and writing—especially since she NEVER loved math (hence why she didn't put 2 and 2 together)—but the question freed her, and set the would-be unhappy corporate girl on a very different track.
For 7 years, LaCoya worked as a teaching artist for a nationally-award winning literary arts organization, where she facilitated reading groups and writing workshops with teenagers in various Chicago-area schools. As a result, she has extensive experience with leading workshops and curriculum development, and has trained and managed other artists, organized large-scale poetry readings, designed and edited creative anthologies, written grants, and given numerous presentations and trainings on the effectiveness of reading and writing to encourage social justice and cultural understanding.
After helping countless students find their voices, she decided to unlock her own, completing courses and workshops with Gotham Writer's Workshop, Northwestern University, the prestigious Voices of Our Nation Arts Foundation, and later, completing her MFA from Antioch University Los Angeles. LaCoya continues to facilitate literature, poetry and writing workshops for teens, lecture and tutor college students at Antioch University Los Angeles, and work as a privately contracted editor and curriculum strategist. She is currently wrapping up final edits on her short story collection Hot Sauce and Honey, and at work on a novel. LaCoya is also Assistant Program Director for LAwritersgroup.com.