.
Exclusively for our readers!  Go see OTHER DESERT CITIES at an exclusive $10 discount on any performance!*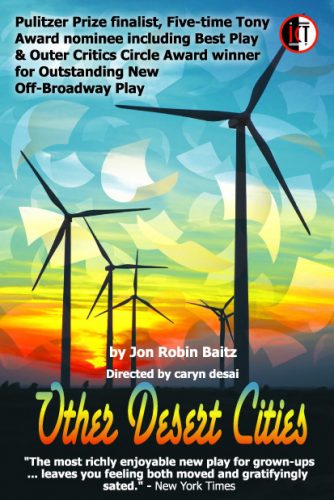 International City Theatre presents
OTHER DESERT CITIES
By Jon Robin Baitz
Directed by caryn desai
Starring Ann Noble, Suzanne Ford, Nicholas Hormann, Eileen T'Kaye & Blake Anthony Edwards
June 4 – 29
Pulitzer Prize finalist, Five-time Tony Award nominee including Best Play, & Outer Critics Circle Award winner for Outstanding New Off-Broadway Play
This funny, explosive and entertaining look at unruly family politics was a finalist for the 2012 Pulitzer Prize. The manicured life of an actor-turned-politician and his impeccable wife is upset when relatives arrive at their Palm Springs home for the holidays — including daughter Brooke who's about to publish a tell-all memoir. With Brooke's parents trying to cling to their country-club social status, the family is torn apart and must come to grips with its family secret.
Use Code WRITER14
To purchase tickets:
Call 562.436.4610
Or visit www.ictlongbeach.org
*Cannot be used towards previously purchased tickets or combined with other offers