Finding story inspiration through visual art
---
This Writing and Art Workshop has ended. Please check out our writing workshops schedule page for currently scheduled workshops or join our mailing list. 
---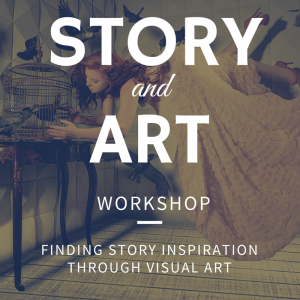 Pictures spark ideas, stories, emotions, and passions. And those same pictures can often reignite the flame of inspiration even when it feels all burned out. In this workshop, you'll discover why so many writers find inspiration through visual imagery.
During this workshop, writers will create a "mood board" to help fuel their writing even after that first burst of excitement has disappeared. We'll switch between writing prompts and creating a mood board (a collage of images that evoke the genre, tone, story, setting, and characters of your material). The mood board will be infused with that rush of first creation—so when inspiration is lagging, you can return to that collage and once again feel the excitement to write.
As a graphic artist, painter, and art scholar, Stephanie has long used mood boards to inspire her writing, help develop her story and characters, and remind herself of why she loves her project. She regularly returns to her mood boards during the writing process. A mood board can become a very valuable tool for any writer—whether you are a beginner or an established author.
Writers will leave with:
A completed mood board! Or maybe more than one. You can get years of inspiration from a single mood board.
Rich visual descriptions for your material. Since the writing prompts will be written while creating a piece of visual art, visual descriptions are sure to be richer. Use them in your project!
A well-developed character, setting or mood. By creating a mood board, you will unconsciously hone your characters, setting, story and mood. Plus you'll have the knowledge to go home and create more mood boards for future projects to help develop stories and remain inspired.
Knowledge of how visual artists use imagery to convey story. Through hearing art-focused stories out loud, you will learn to use imagery in your writing more effectively—to move the story forward, convey tone, and build character.
Feeling like a Renaissance person. One art-form always feeds another. Painting feeds music feeds design feeds writing. Creating a mood board will leave you feeling energetic, creative, and confident.
Details:
Skill Level: All writers or artists over the age of 18. No prior art or writing experience necessary.
Location: Los Angeles, CA: A private residence in West Hollywood, 90046 near Hollywood Blvd. and Laurel Canyon Blvd.
Workshop Date: Saturday, July 11
Time: 11:30 am

– 3:00 pm

Instructor: Stephanie Storey
Cost: $135
Registration Deadline:  Saturday, July 4
Important Terms & Conditions

:  

This workshop is not confirmed until at least 4 people register

, so do not wait to sign up.  If 4 people do not register, you will be refunded in full on the registration deadline date.  Keep an eye on this site for the number of registrations and share it with your friends!  Once 4 people register, the cost is non-refundable.  If you cannot attend the workshop and you speak to us prior to the registration deadline date, we will transfer your registration to another workshop. After the registration date, the workshop is non-refundable and non-transferable.  Attendance at this workshop qualifies you for the

returning member discount on future workshops.  Read our full refund policy here.