---
This Acting for Writers Workshop has ended. Please check out our writing workshops schedule page for currently scheduled workshops or join our mailing list.
---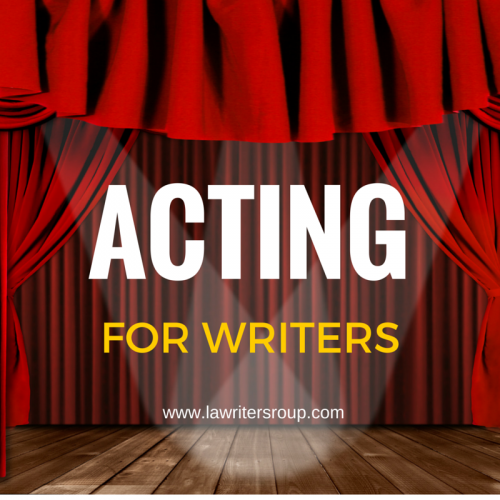 Actors have an amazing ability to develop full, rounded characters. Through years of studying their craft, they have learned to find the motivations, quirks, conflicts, gestures, and points of view that truly bring characters to life. Plus, actors have an uncanny intuition for creating dialogue that is rich with subtext.
In this unique workshop, participants will improve their craft by learning to write like an actor. Through a series of writing prompts, acting lessons, and discussions, participants will learn to write better dialogue, get in touch with their characters' emotions, develop strong points of view, and choose character details that are specific and important.
This workshop is perfect for any skill level and is sure to reveal a whole new world to any writer. Acting is about taking the internal and making it external—actors are tasked with making a character VISIBLE and COMPELLING to the viewer. This workshop will teach you, the writer, how to make your characters VISIBLE and COMPELLING on the page through dialogue, motivation, point-of-view, and subtext.
Acting can get you deeper into your characters' heads than you ever dreamed. It is sure to change your writing—and maybe even your outlook on life.
Writers will leave with:
A fully developed character (If they choose. They can also move around between characters and leave with several characters fleshed out)
Character questions and writing prompts they can use to develop other characters in the future.
An understanding of various acting techniques and how to continue this study outside of class (including a list of suggested reading).
Confidence in character creation. After this class, no participant should doubt their ability to develop a fully-rounded character and bring them to life on the page.
A better "eye" for picking details and gestures that serve the character.
Improved dialogue skills. By using these techniques, EVERYONE will write richer dialogue with more subtext.
A whole new view of the world: participants will see writing, acting, and the world a little differently after this workshop.
---
If you are interested in receiving critique or guidance on your book project, please check out our Private Coaching options or schedule a free coaching/editing consultation. View all creative writing workshops here.