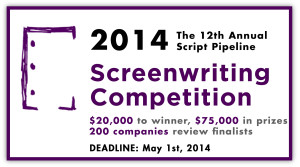 Screenwriters, this opportunity is for you!
The 12th Annual 2014 Script Pipeline Screenwriting Contest deadline is approaching soon!
Known for discovering up-and-coming creative talent and connecting them with top producers, agencies, and managers across both studio and independent markets, the Script Pipeline Screenwriting contest can help you find representation and/or access to those oftentimes impossible-to-reach industry execs.
In addition to the major prizes, finalists are given exposure to approximately 200 qualified industry contacts, as well as:
• Over $20,000 in cash
• Phone or in-person consultations with Script Pipeline's Director of Development and Senior Consultant
• Personal introductions to managers, producers, agents, directors, and others searching for new projects and writers
• An opportunity to send other material to Script Pipeline for internal review
• A reserved spot to the 2014 Secret Door Pitchfest as a recognized finalist
Our intent: not only circulate upper-echelon material to the proper channels, but help launch the careers of our writers.
ENTRY FEE: $55/script
ADDITIONAL NOTES (optional): $80