Never underestimate the power of a girl and her pen!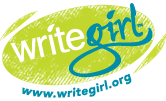 WriteGirl has put out a call and they need the help of women writers in Los Angeles County!
WriteGirl is a 501c3 non-profit that utilizes the mentorship of women writers (of all genres!) to empower teen girls through creative writing and self-expression. Young writers receive creative instruction, techniques, and insights through one-on-one mentoring, school programs, and  monthly workshops. Graduating high school seniors are also able to participate in various college preparatory workshops that guide them through the college application process, from essay writing to securing financial aid. Our own Assistant Creative Director, LaCoya Katoe, is part of the WriteGirl College Ed team and has this to say about WriteGirl:
"When I attend WriteGirl events, I am often awestruck at the number of young girls who confidently idea themselves as writers. Seldom do you hear a WriteGirl student say, 'I want to be a writer some day.' These young women identify as writers and with every mentor interaction and every workshop, they pick up their pens more confidently to express not only the desires of their hearts, but also their opinions about the world they'd like to create. Attending a WriteGirl event is inspiring, not only for the participating students, but also for volunteers like me.  As a writer, after sharing the joys of writing with a student, and watching that student respond in amazingly creative ways, you can't help picking up your pen in response to the energy and getting back to work."
Los Angeles Writers Group encourages you to support local nonprofits, especially those who grow writers of all genders.  If you might like to volunteer, or know of other woman writers who might, learn more and apply online at: http://www.writegirl.org/join-us/. Applications are due on January 27th, 2014 and training begins on February 1st.