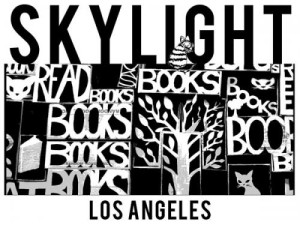 We hear all the time about how local bookstores, and bookstores in general, are disappearing, no longer staples in our communities. This is why it's important to support the few that remain.
Skylight Books has served Los Angeles since 1996, and a review of their most recent newsletter, suggests they are still going strong.
We were particularly intrigued by Skylight's desire to offer more support to local book groups in 2014. On Tuesday, January 28, they are offering a Book Group Extravaganza for Skylight staff to meet book group members, uncover their needs, and help them choose their next book selection. The event also promises the opportunity for groups to network with one another and take home some freebies.
We couldn't find a link about this event on their site, but the Book Group Extravaganza was published in their newsletter. Check out their site anyway, as they have plenty fun writerly events coming up, including several readings in February and March.
Don't forget, if you attend any events or readings, let us know your thoughts here in the comments section, or by email. We'd love to share your experience with the LA Writers Group community.