Coming soon in 2023! Join our mailing list for priority notification.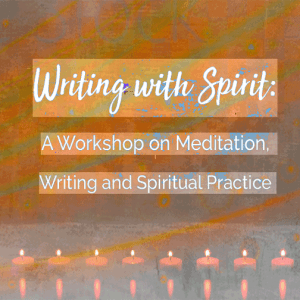 This meditation and writing workshop is a place to breathe, create, share, reflect and connect with spirit, and offers writers a combination of meditation practice and writing exercises.
For writers of all levels, this workshop will help you relax and cut through busy, overly logical minds and find a path to deeper creative inspiration and spiritual insight.
Each session will begin with a meditation and then connect meditation and writing. The meditations we will do together may include:
Metta (loving kindness practice)
Mindfulness meditation
Breath practices
Visualizations
Meditations from various spiritual traditions
Secular meditations, or
Various focusing practices and meditations on light, color and sound.
We will also take time to read inspiring spiritual writings and create our own spiritual writings. There will be a time to share (optional) what we have written together and offer each other positive feedback. We may also take time together to look at how writing and spirit connect across the world's great religions and read inspiring spiritual writings.
Hope to see you soon in the Meditation and Writing Workshop! 
Skill Level:
Anyone over the age of 18
Class Size:
Max 20
Requirements:
None
Location:
Online via Zoom
Important Terms & Conditions:
This workshop qualifies you for the 15% off Returning Member Discount, which you will receive when you attend your first workshop.
Read our full refund policy here.