This workshop has ended. Please check out our writing workshops schedule page for currently scheduled workshops.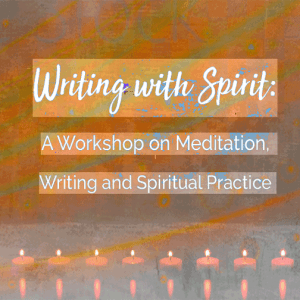 In this meditation and writing workshop, we combine meditation practice and writing exercises to help spark greater creativity. We will create space to breathe, create, share, reflect and connect with spirit.
For writers of all levels who want to write and connect with spiritual self, this workshop will help us relax and cut through our busy, overly logical minds and find a path to more profound creative inspiration.
Each session begins by learning a meditation together, and we will alternate between that meditation and related writing prompts and exercises. We will draw from different meditative practices each week, such as:
Metta (loving-kindness practice)
Mindfulness Meditation
Breath Practices
Visualizations
Focusing Practices or
Meditations on sound, color, and light.

 
We will also take time together to look at how writing and spirit connect across the world's great religions and read inspiring spiritual writings.
Learning and go deeper into meditation practices we already know and letting these practices spark new creative work. There will be a time to share what you have written (optional) and offer each other positive, supportive feedback.