.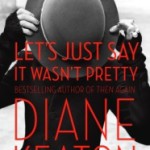 Most people know Diane Keaton for her work as an actress, but did you know she's also a best-selling author? In her latest book, a memoir titled Let's Just Say It Wasn't Pretty, Keaton details her life as a mother, daughter, actress, artist, and international style icon. Her memoir also reveals Keaton's thoughts on how beauty is about living one's personal truth, and how "a life well-lived may be the most beautiful thing of all."
We're always on the lookout for good memoirs, and thought, considering her connections to Los Angeles, that Keaton's insight might be worth checking out. Reviews say Let's Just Say It Wasn't Pretty is "wryly observant and as fiercely original as Diane Keaton herself…a head-turner of a book that holds up a mirror to our beauty obsessions—and encourages us to like what we see."
See Keaton read on Friday, April 25th at Wilshire Ebell Theather, 8pm.