.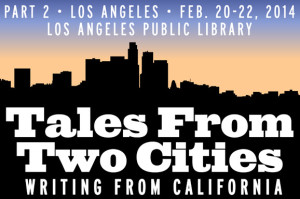 On Friday and Saturday, February 21 and 22, the Los Angeles Public Library and the Library Foundation of Los Angeles will host the "Writing from California: Tales From Two Cities" conference.  This conference is a day and a half of readings, discussions, and interviews exploring the literature of Los Angeles and how LA culture reveals itself in our writing.
The conference begins on Thursday evening, with Walter Mosley in conversation with Attica Locke, and continues Friday and Saturday with some of California's most popular authors speaking about the connection between writing and immigration, innovation, the desert and the coast.  Participating writers include Susan Straight, Luis Rodriguez, Amiee Bender, Charles Yu, David Ulin, Gary Synder, and many more.
This event will be held at downtown's historic Central Library, and is free and opened to the public. Reservations are required for the Mosley conversation and the closing bus tour, "Noir On The Road: Raymond Chandler's L.A.," but no advance registration is required for the Friday and Saturday events, with seating available on a first-come, first serve basis.
If you happen to attend this LA literary event, please tell us about your experience in the comments section below.