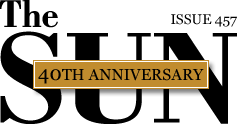 Calling all writers/job applicants!
The Sun Magazine is hiring an Associate Publisher. And while the job would require that you leave us in Los Angeles, and move to Chapel Hill, North Carolina, we still thought it a wonderful opportunity to share with the Los Angeles Writers Group community.
In case you're unfamiliar with The Sun, check out their website and uncover the beauty of why this publication is so revered by its 70,000+ subscribers. Independent, ad-free, and committed to celebrating "life, but not in a way that ignores its complexity," The Sun publishes essays, short stories, interviews, poetry, and photographs of both known and unknown artists.
According to the job posting, the Associate Publisher will have a direct impact on The Sun's "business operations, finance, and personnel."
We see working to keep "a nonprofit, ad-free magazine" alive in this day-in-age as important work for anyone, especially for someone who supports The Sun's mission "to marry the personal and political; to honor the genuine and the spiritual; to see what kind of roommates beauty and truth can be; and to show that powerful teaching can be found in the lives of ordinary people."
If this isn't the right opportunity for you, please pass this job posting along.